Litter Pick - The Result
Posted by

admin

on

Thursday, 12 March 2015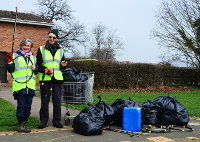 I organised a litter pick on behalf of the Parish Council for Wednesday 18th March. My first concern was about the numbers attending. I am not sure which would be worse; me on my own or me surrounded by 200 people. The first fear was soon allayed when we became a workable working party of twelve.
My second fear was that Janice, my Borough Council contact, would not show up. Janice is the one with the knowledge, the experience and the equipment. Without Janice we were just twelve people grumbling about the litter problem. Second fear allayed when Janice arrived with litter pickers, bags and fluorescent bibs (any size you like as long as it's "large"). Pretty soon it was becoming clear that Janice had done this before. Difficult questions were answered, risk assessments were completed and we moved out in pairs to various parts of the park and the Village Hall car park. We had promised not to touch anything that looked "dodgy" but simply report it to a higher authority (in this case Janice), and you would be amazed at what we found. Punctured footballs, hub caps, four gallon chemical containers and even a shopping trolley. Actually the latter came in very handy for transporting the bags of rubbish!
It was a nice day (when the fog cleared) and, as we started work at the back of the Village Hall, we were keenly observed by the play group children. They soon twigged that if they dismantled their toys and threw the parts through the fence they could be entertained by watching us pick them up again with our litter pickers. In less than two hours we had assembled a mountain of rubbish.
I am hugely grateful to Janice for her help in making this happen and providing us with the tools we needed to do the job. I am also grateful to the people who took the trouble to contact me to say that they couldn't make it on this occasion but that they were keen to lend a hand in the future. And on the basis of our experience at this event there will be more in the future. We talked about the state of Manor Road (opposite the car dealers and also at the entrance to Dog Bark Lane). Of course the parish is more than just Swindon Village. Please let us know if you think that initiatives like this might be useful in your area, especially if you would be willing to lend a hand!
Finally (of course) the biggest thank you is to the people who turned out and got stuck in. In the end the event was exactly what I had hoped for. It was fun and sociable. We shared ideas about which areas of the parish needed attention and what might be done to improve them. We had a laugh and we made a big difference to the park and to the Village Hall car park. I hope you notice!
-- Shaun (Clerk)